A slow start to the season
Well, "Man and Van" has been a huge success! Almost too successful, if that is even a thing, I have been bombarded with requests for my assistance over the past few months, sometimes I feel there are not enough hours in the day to accommodate all the requests. However I have tried my best to ensure my customer's wishes are granted. This work has taken me all over Scotland, wither it be delivering sofas or domestic goods, assisting people moving into their new homes, recycling or rehoming peoples refuse. This helped me build up a little pot of gold that assisted me along the way with my first few golf events this season along with support from sponsors CRGP ltd & Concept Financial Ltd. I hope to make the pennies I've made over the winter into pounds over the next coming months.
I learned very quickly, that when starting your own enterprise sometimes other things have to give. It can be hard to knock back work when you are so focused on making an income. It was unfortunate that my golf preparations for the season took the hit. I missed the cut at all four of my first events in Frilford Heath, Harleyford, Studley Wood and Montrose. Despite missing these cuts, I could see myself that as the week of each tournament went on, my golf gradually improved.
Having gotten off to a slow start, I felt there was no option other than to put the "Man and Van" jobs on the backburner and focus on improving my golf. My results last week have restored my confidence and I am back on track for this season.
Clevedon Golf Club is a new course on The Euro Pro Tour this year, it is home to Sky Sports Golf pundit John E Morgan, tournament host. To be perfectly honest, I wasn't expecting much from the course, with it being built around a hill south of Bristol and measuring a mere 6500 yards. I thought it was going to be the Windyhill of Somerset! I take that back now. Only 3 or 4 holes were fairly sloped, the 7th being one of them. I thought it would be a good idea to eat a sandwich walking up the fairway, let's just say I was breathing like an asthmatic Labrador by the time I got to my ball. The 8th hole played a 50 yards gradient downhill… for the less educated out there, this means your tee shot went 50 yards further (I Hit a 6 iron off the tee which went the distance of my 3 iron).
Moving swiftly on, well at least a little faster than my hike to the 8th…
I made my first cut of the season, finishing tied 14th place on 5 under par for the tournament. My two travel companions also had great events. Ryan Campbell tied 3rd (-10) and Brendan Mcarroll got piped to the post in a play-off, finishing 2nd. Guys have been great to travel with this year alongside Michael Stewart. I am optimistic about supporting each other to continue improving our game. We help each other out as and where we can during practice rounds and on the range, we have a good laugh and enjoy the occasional beer to settle the nerves and discuss our performance.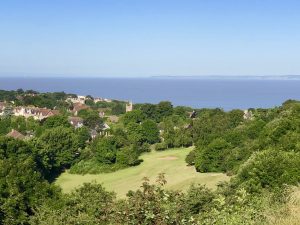 And so the marathon of golf events continues, over the next few months I will be playing Euro Pro Tour events every Wednesday to Friday. Additionally I will participate in ASI Scottish Open Qualifying at Longniddry Golf Course on the 7th and 8th of July. Of course the world leading development tour – Big Johnson's tours will also continue
so keep your eyes peeled and follow the page for updates.
All tournaments dates on my website page check them out and if you are around any of the areas feel free to come along to any of the events which are free admission. http://johnhenrygolf.co.uk/events/2018-06/ .
In amongst all these golf events I am also hosting my own golf day at Clydebank & District Golf Club, home of yours truly. This event will be on Friday 27th July, there are still some spaces but these are filling up fast so to avoid disappointment get in contact to enter your team. Cost to enter is £160 per team of 4, this includes two course meal after round, your chance to try beat me at beat the Pro, plenty of great prizes to be won and evening entertainment by local singer/guitarist Alan Cranney http://johnhenrygolf.co.uk/john-henry-invitational-2018/
I wish you all a summer season of superb Golf,
John Henry