Another fantastic golf day held at Clydebank & District GC played on Friday 27th July. With around fourth teams of four players in attendance and a decent days weather forecast. Where else would you rather be than The Royal Hardgate supporting yours truly.
I am astonished each year with the amount of entries I get for the event and extremely grateful for the support. Many of the participants told me on the day they look forward to it each year as one of there best golf days out golf,beers,good food and entertainment… not sure if that is Archie Bowie,Stevie Frew or our very talented Alan Cranney.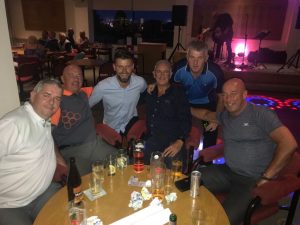 With the 2017 John Henry Invitational title holders… Henrys Dalmuir Motors in attendance there was some fierce competition for the trophy on the day.
The winners in the end were Arbour 2 ( pictured ) with a superb score of -17 51 followed closely by Henrys Dalmuir Motors -16 52.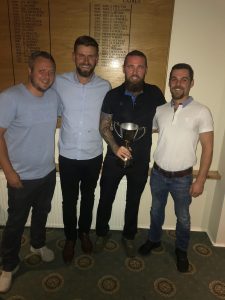 The golfers were spoiled with the perfect condition of the golf course by Graeme Latto and his team, the delicious food produced by Chris Quinn and his team and of course well watered by Kevin Frew and his bar staff team.
Massive thanks to all who came along and supported the day in some way. Look forward to a bigger and better event next year!
John Henry